Now is the time to act
We need your support to improve the outdated, secretive process in time for the selection of the next Secretary-General in 2016. Click on the button below to join our global movement for change.
Whether you have two minutes or two hours to spare, please help us by playing an active part in this global movement for change. Check out some ideas below for how you can take action now.
Ask the UN Secretary-General candidates a question
Right now there is a window of opportunity to interact with candidates and find out where they stand on the issues that are important to you.
Here are two great ways to submit your question:
1. Though our questions portal
With our partners, the 1 for 7 Billion campaign has created a portal available in 9 languages enabling you to vote on the questions you'd like candidates to be asked at upcoming debates. It also gives you the option to submit your own question.
Click here for the questions portal
2. Directly on Twitter
Record a short video of yourself or a friend posing the question
Upload it to twitter and tag @1for7Billion and #UNSGcandidates
Many SG candidates have twitter accounts, so you can also include one or more of their twitter handles too (list below)
Helen Clark: @helen4sg
Natalia Gherman: @natalia_gherman
Vuk Jeremić: @vuk4unsg
Igor Lukšić: @I_Luksic
Vesna Pusić: @vpusic
Danilo Türk: @_DaniloTurk
Use this if you want to tag them all: @helen4sg @natalia_gherman @vuk4unsg @I_Luksic @vpusic @_DaniloTurk @1for7billion
Make sure the candidates live up to their promises
From ensuring gender parity in senior UN appointments, to standing up to powerful states - the candidates vying to be next Secretary-General made a range of commitments in their hearings at the General Assembly, and in public statements.
We need your help in making sure they stick to these promises, should they be appointed UN leader.
Check out the range of 'tweet pics' below, featuring the promises and statements made by candidates. You can help us raise public awareness about these commitments by posting the images on Twitter and tagging the relevant candidate (see list of Twitter handles above).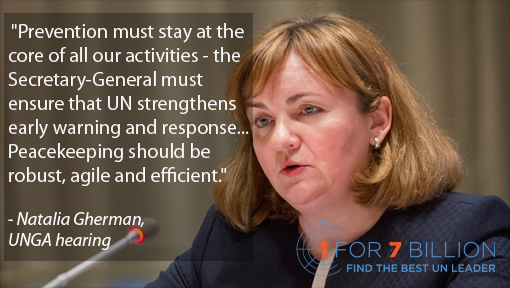 Share the mock job ad
Printed in the Economist, our spoof advert is designed to trigger public outrage about the secretive process by which the UN leader is selected.
We're encouraging our supporters to post this ad on social media as a public show of support for the 1 for 7 Billion campaign and its demands for a fairer process. Click on the image, or below, to download a hi-res version of the job ad.
Click here to download to job ad
Tweets for you to use
Vacancy: UN Secretary-General. Job description: None. P5 accepting applications. It's time for change @1for7billion [IMAGE]
We think the leader of 7 bn people deserves a better job advert than this. #FindthebestUNleader [IMAGE]
#Climatechange, #refugeecrisis, #terrorism – the world needs a strong leader… and a better selection process [IMAGE]
Is this any way to appoint the @UN chief? Join @1for7billion for a fairer way to #FindthebestUNleader [IMAGE]
Watch and share the campaign video
Streamed at a press conference ahead of the UN General Assembly debate on Sec-Gen selection on 27 April, this 60-second animation has been a vital tool in raising awareness about the responsibilities of the UN Secretary-General, the pitfalls of the current selection procedures and our ideas for a fairer process.
Now, we are asking you to share this video with your friends, family and colleagues via social media to ensure our message reaches the widest possible audience.
In a hurry? Click here to share this video on Twitter, or click here to share the video on Facebook.
Tweets for you to use
WATCH NOW: The @1for7billion campaign in 60 seconds – why do we need to #findthebestUNleader in 2016? [VIDEO]
Help @1for7billion secure a better process for a better @UN Secretary-General in 2016 [VIDEO]
There's so much wrong with #UNSG selection that it's hard to explain in 60secs. But @1for7billion have done it anyway [VIDEO]
Is this any way to appoint the @UN chief? Join @1for7billion for a fairer way to #FindthebestUNleader [IMAGE]
Spread the word and follow us on Twitter and Facebook
Twitter tips
Mention @1for7billion to make sure you get our attention
Reply to our tweets to spark discussion on 1 for 7 Billion
Retweet other tweets about 1 for 7 Billion
Use the hashtag: #FindTheBestUNLeader
Mention the Twitter accounts of our supporting organisations and encourage them to share
Photos, key statistics and quotes from our policy platform could help make your tweet stand out